01 / 08/ 2022
Step into the future: YouTube enters video commerce industry with Shopify partnership
YouTube has partnered with E-commerce giant Shopify to enable video commerce into its platform. Businesses and creators will now be able to access live shopping tools and help viewers purchase directly from live video.
YouTube ventures into video commerce with Shopify
Every day, millions of users watch shopping related content on YouTube. Out of that, more than 33% of them definitely purchase products discovered on YouTube. Around 89% of viewers agree that they can trust recommendations by creators on YouTube when it comes to a product. Considering its success as one of the most popular global content platforms, YouTube entered the arena of video commerce with a brand new partnership!
YouTube recently announced its venture into the video commerce industry with its partnership with E-commerce company Shopify! This comes as a fruitful opportunity for businesses and creators worldwide who want to expand their brand with a futuristic vision.
How will the YouTube & Shopify partnership work for businesses?
This newly established partnership will allow merchants on Shopify to upload their channel on YouTube. Creators and businesses will be able to feature their products below pre-recorded videos, during live streams or at the end of videos.
Businesses on Shopify will be able to display their merchandise in the following 3 ways;
Live Streaming - Businesses can display Shopify products during a YouTube live streaming. Moreover, they can also pin popular products for ease of shopping.
Videos - Businesses can use the basic video format to showcase products as a list.
Store Tab - Here, a new tab will be added from the business's side to display their entire Shopify store on YouTube.
Product inventory will be liked to the respective Shopify store so that updates about out of stock or unavailable items will be visible to customers. Most importantly, customers will have the option of on-site check out while purchasing so they don't have to leave YouTube while buying.
Does shop-entertainment get any better than this?
Note - Shopify businesses require at least 1000 subscribers on YouTube to avail the YouTube & Shopify feature.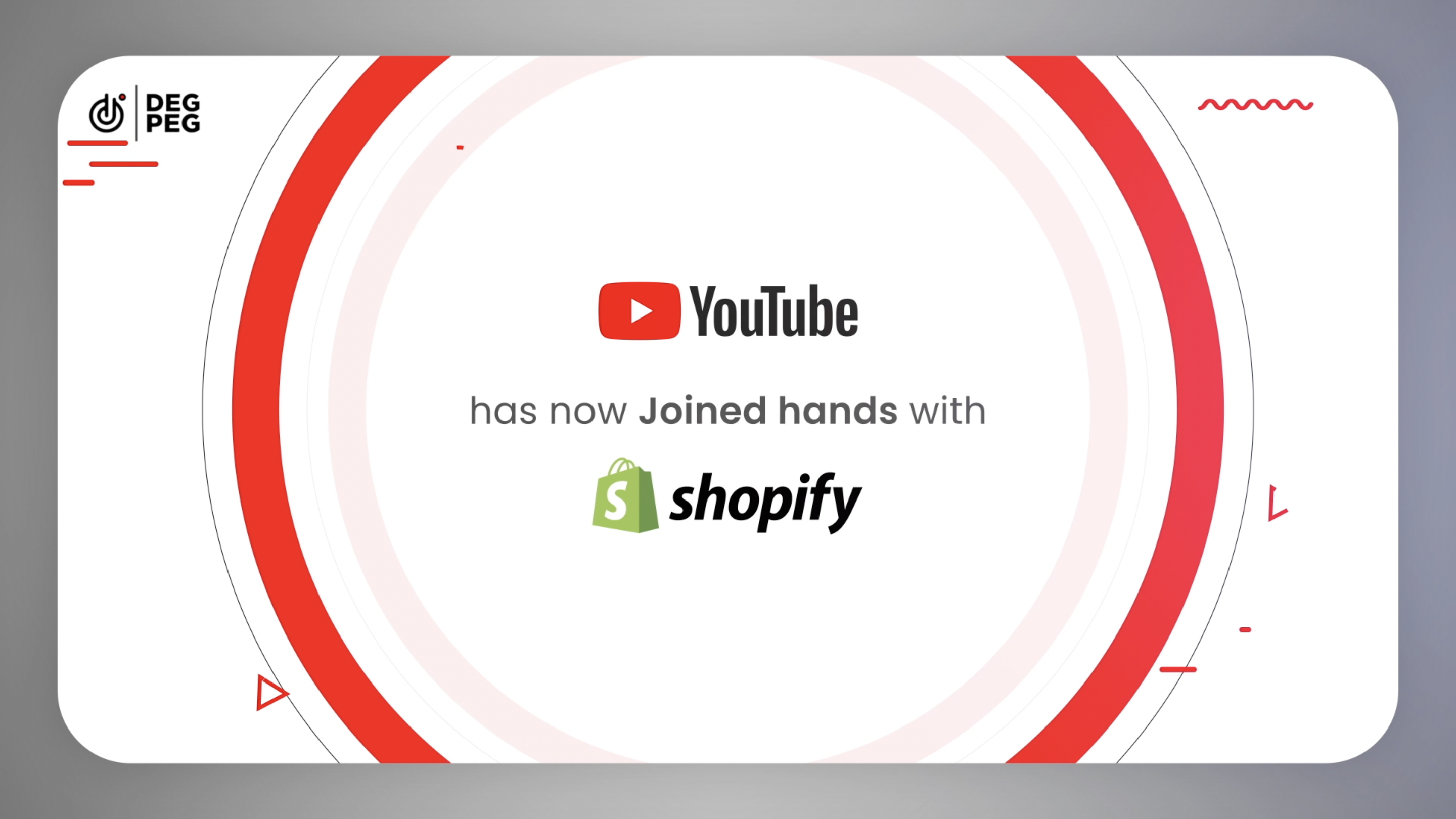 How will businesses benefit from YouTube & Shopify partnership?
According to latest research, YouTube has a massive 2.2 billion monthly active users across the globe. Merchants and businesses on Shopify will now be able to reach out to this humongous pool of consumers with a single integration.
Apart from this exposure, brands, creators and businesses will be able to build a community as shopping is becoming more of a social activity!
What's next for YouTube in the video commerce industry?
YouTube is launching a 'shopping hub' under its 'Explore' tab section which will post relevant shopping content from businesses and creators. This feature is currently available in India, the US and Brazil, with more availability in other countries in the coming months.
Till date, the approximate global sales on Shopify are around $200 billion. The partnership with YouTube is destined to usher in a new, futuristic era of video commerce.
"We're excited to partner with YouTube, and help scale the creator economy into its next phase of growth", said Kaz Nejatian, VP of Product at Shopify.
The YouTube - Shopify integration definitely proved the forward vision of Degpeg. The cloud based live commerce platform was founded with the intent of making video commerce the future of shopping-entertainment. Now with brands like YouTube and Shopify entering into this exciting industry, Degpeg is all the more confident of taking the live commerce revolution forward!