20 / 04/ 2022
How to do Live Streaming - Things you need to know
It has been estimated by researchers that the live streaming market will hit an approximate $223 billion by 2028. If you still haven't joined the wagon, we think this is the right time.
But in order to do so, you must have a clear understanding of how to do live streaming. Let this blog be the master guide for your first successful live streaming.
Table of contents:
How to do live streaming - 5 Golden Rules
Live streaming setup
Live streaming process - step by step
How to do live streaming in Youtube?
How to do live streaming on Twitch?
How to do live streaming on Facebook?
Summary
FAQs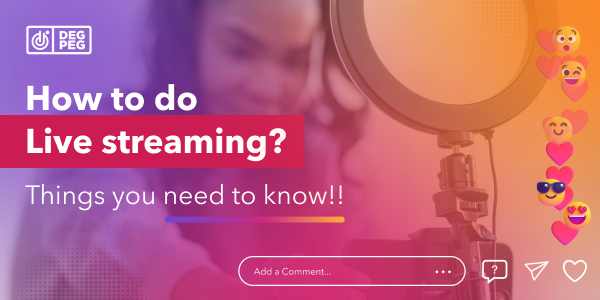 How to do live streaming - 5 Golden Rules
Planning the live stream - The first step towards a successful live stream is planning. Just because it's virtual, doesn't mean you will not plan your live stream like any other event.

Do a competitor research to see what kind of content your competitor is posting
Jot down some practical facts and figures about your product. It will help viewers to determining the genuinity of the product
Prepare a backup script. Even though live streams are impromptu, it helps if you jot down points you want to cover. This comes in real handy for product features or descriptions

Defining the target audience - Define your target audience according to your product. If you have a niche product to sell in the beauty domain, you would want to out to users who are most likely to buy them.
Set a time zone for international viewers - If you are targeting international audiences, we suggest you set a time zone in accordance with them. In case you are going live according to your local time, don't forget to notify your global audience
Keep viewers notified - Don't forget to post those live stream reminder stories on all your social media outlets.
Be confident - Most importantly, be confident and genuine about the way you present yourself. Stay away from cuss words and insensitive comments about personal beliefs
Live streaming setup
A live stream setup involves a set of devices that you require to set up the process. They are as follows:
Video and audio sources - Video sources include your mobile or computer camera. For a seamless live stream experience, make sure it is mounted on a tripod. For audio, you need a microphone.
Video encoder - An encoder is a software or a hardware that converts the raw video of your live stream into a digital format. Thanks to this, you can live stream from channels like YouTube.

Pro tip - As a beginner, you should use a software encoder. It works in real time to convert your live stream from video files to digital files and sends them directly to your streaming platform. OBS Studio is one such software encoder that you can check out.

Streaming platform - Streaming platform is a place from where your viewers will be able to watch the live stream. Some popular streaming platforms are YouTube, Facebook, Instagram, Twitch.
Lights - In order to make a good impression, make sure you are streaming from a well lit area. You can use a ring light for a more professional experience.
Uninterrupted internet - A vital element of live stream, internet ensures your stream goes on smoothly without a glitch.
If you want to stream from multiple social and community platforms, you can get onboard the Degpeg team. Degpeg allows you to stream from 30+ channels, ensuring your content reaches viewers from all over the world.
Live streaming process - step by step
Now that all the devices are in place, let's begin with the live streaming process.
Connect audio and video sources with primary live stream setup - Make sure everything is powered up. Connect your audio and video channels with a primary live stream device like your PC or laptop.
Configure encoder - It is suggested that you use a software encoder which will adjust the setting according to the streaming platform.
Connecting all of the devices together - The final step is to connect the audio and video setup with the streaming platform.
Still sounds a tad bit complicated? Head over to Degpeg for all the grunt work as you get to sit back and conduct an effortless live stream.
How to do live streaming in YouTube?
YouTube is the second most visited site in the world with 22.8 billion visits every month. As an influencer you wouldn't want to miss out on such a huge pool of audience, right? Now, live streaming on YouTube is fairly easy and hassle free. Let's get started:
Create a gmail account on Google if you do not have one. Because those credentials will be required while creating an account on YouTube.
Go to the 'Create' icon on the top right hand corner of the YouTube browser. Click on the 'Go Live' option. You need to verify your channel by adding in your phone number associated with the gmail account if you're doing a live stream for the first time.
Click on the 'Enable live stream' option. Once you enable it, it will take 24 hours before you begin your stream.

Pro tip - Don't forget to make the live stream 'Public' to ensure it reaches a wide demographic.

Once your 24 hours is up, again go to the 'Create' option and click on 'Go Live'.
Click on 'More' to schedule a time for your stream, add in the age group of viewers.
Finally tap on 'Go Live' to begin streaming
If you wish to connect with viewers across multiple community platforms, you can use Degpeg for all your live stream needs. Reach out to viewers from channels like Twitch, Reddit and Snapchat apart from YouTube.
How to do live streaming on Twitch?
Currently, Twitch is the biggest live stream platform with 30 million daily active users. To go live on Twitch, you'll need to do the following:
Customise the live stream

Before you begin the stream, think about the title, notification and category which will help you market your stream in an effective manner. The title is the one that appears in bold font below your live stream video. Choose a title that immediately captures the viewer's attention
The notification is a text to inform your existing followers that you're going live. Again, decide on a notification that sounds like a genuine invite and not a spam message
The category helps your stream to show up in the right section of Twitch. Choose the one that matches the content of your stream for example - music or gaming

Pro tip - For MAC/PC go to the 'Stream Manager' page and click on 'Edit Stream Info' to configure these settings.

Going live from Mobile

For ios and android phones, download the Twitch app and create an account
Log into the account and tap on your profile icon on the top left corner. Click the 'Go Live button to begin your stream

Going live from MAC/PC

For MAC or PC, download the Twitch Studio software
Watch the Twitch Studio tutorial on the software that takes you through all the nuances of how to begin the live stream process
How to do live streaming on Facebook?
Launched in 2015, Facebook Live generates 10 times more comments than regular videos. So without further procrastination, let's learn the nuances of a successful Facebook Live.
Going live from Facebook app

Click on the 'What's on your mind' icon at the top of your profile
Go to 'Create' and select 'Live Video' option
Hit the 'Tap to add a description' button to add a small, catchy description to your video
Click the 'Start Live Video' option to begin your stream

Pro tip: Be as interactive as possible to encourage comments

Facebook Live Tools - Facebook live offers some pretty amazing tools that help boost your engagement with viewers further. Let's see how much these tools contribute to your successful live stream.

Live polls: Create a live poll beforehand and share it over the live stream to record likes and preferences of your audience
Front row: Give a shout out to your regular viewers by highlighting them as top fans in a specific section of the stream
Live with: This co-broadcasting feature allows you to stream with multiple people at a time
Summary
In case your mind is riddled with instructions, let's summarise it for you.
Live stream industry is estimated to be a billion dollar market by 2028. So if you are still hesitant of the phenomena, it's time for you to get on board
Before diving into the streaming part, make sure you have all the logistics planned. Think about your target audience, the location from where you will stream and the content involved in the streaming
Ensure your live stream setup by assembling the audio and video source, encoder and streaming platform in one place
Live stream on YouTube, Twitch and Facebook following the above mentioned instructions to get a feel of the process
FAQs
Q: Is YouTube live streaming free?

A: Live streaming on YouTube is absolutely free. All you need is a Google account and you are set to begin your stream. However, if you want quality production, you can invest in top notch lights, mics, encoders (in case of hardware encoder) etc.