09 / 06/ 2022
Degpeg ventures into branded footwear with Bacca Bucci
"One shoe can change your life," said Cinderella.
And one order from Bacca Bucci is definitely going to change the way you perceive branded footwear!
The Bacca Bucci Story...
Crafting your imaginations into reality is Bacca Bucci, a footwear brand born on the streets of Delhi in 2013. This iconic brand has sold more than 10 million pairs, with over 1 lakh pairs of shoes sold from their website alone in the last one year. Bacca Bucci brings together fashion, comfort, quality and affordability all in one shoe! But why is this suddenly so relevant? Let's dive deep into another brand story here!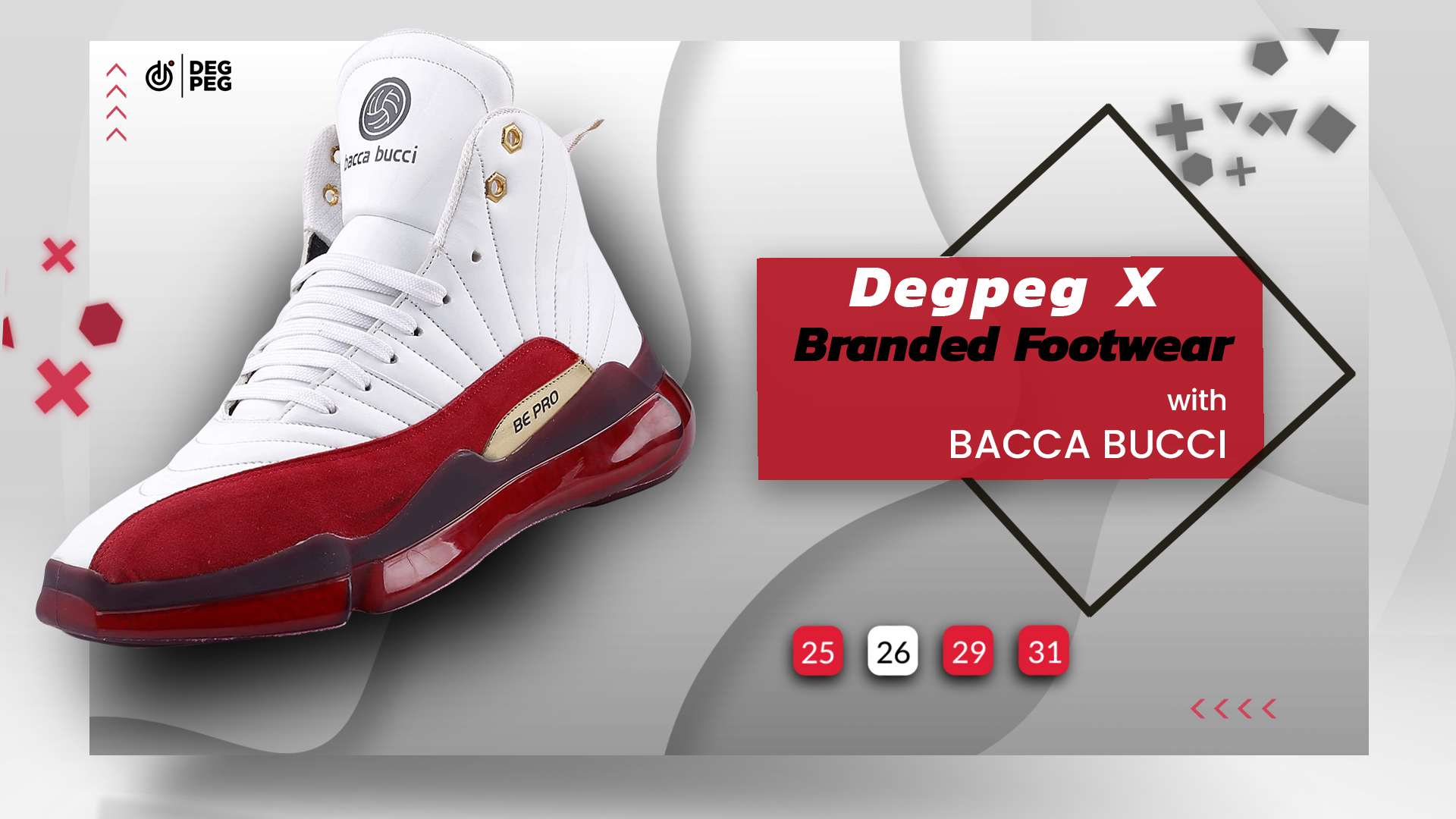 Degpeg's Grand Entry into Branded Footwear…
Degpeg just made its first venture into the branded footwear and accessories industry with the best in the field! Degpeg joined hands with Bacca Bucci to bring the latter's products onto the live commerce platform. Now customers all across India can purchase a range of their favourite footwears from a brand that values creativity and authenticity above all. Moreover, users will have a chance to see the finished products on live stream, ask questions regarding the product and get an entire 3 dimensional shopping feel.
What's in it for the Consumers?
Now the question arises, what's so special about Bacca Bucci that makes it different from other similar brands? Bacca Bucci is rooted in humility and is often inspired by bloggers, celebrities and friends who help them create masterpieces that last. Over here, you are definitely going to get spoiled for choice. From athleisure for the gym to loungewear for home, stylish stilettos for that date to flip flops for a beach vacation, find it all under one roof. The USP? Bacca Bucci brings together highly skilled artisans and craftsmen to create perfect pieces for you.
And how can we miss out on the packaging?
Perfect pair of shoes and accessories need to be packed with finesse. Bacca Bucci delivers your purchases in handcrafted wooden boxes complete with a warranty card and a care card with instructions on how to take care of your prized possession!
What's Next…
Why are we at Degpeg so delighted by this association? Because we just entered into the branded footwear industry with one of the best names. We plan on bringing the Bacca Bucci experience to thousands of eager customers by harnessing the power of live commerce.
Are you a brand or an aspiring one looking forward to venture into the live commerce realm? If you too are looking for a live commerce platform that takes care of your live streaming technology, revenue and retention along with marketing and growth, you know who to come to! After all, we are now working with one of the finest brands' in the industry.