04 / 09/ 2023
Chatbot VS audio-video bot. Who wins?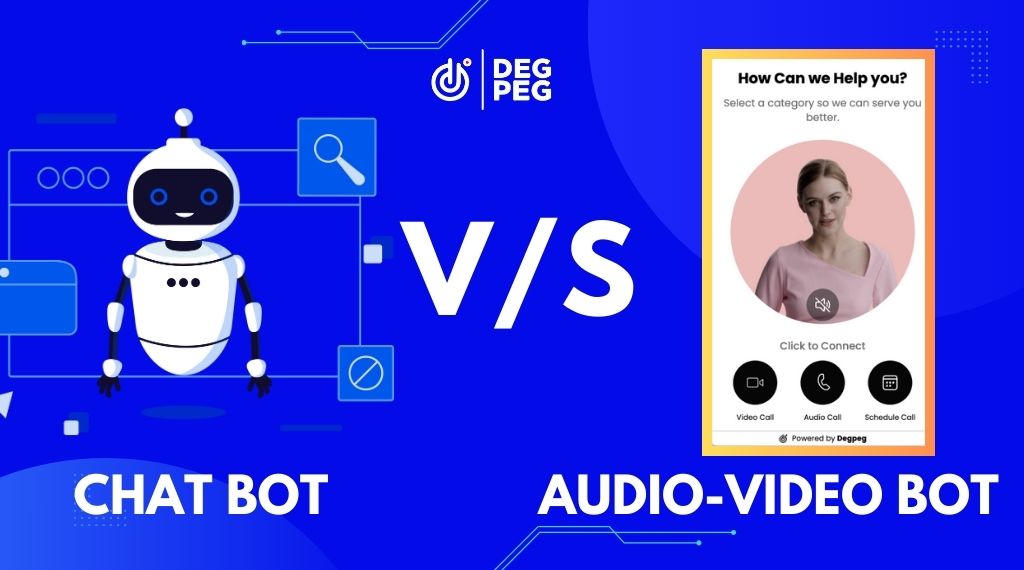 What is a chatbot?
Chatbot is an automated messaging service that lets people communicate with businesses' support functions using the chat messaging facility. Using chatbots, businesses can pre-feed typically asked questions and answers, to which users generally just need to tap and select the questions they want to ask. The bot then automatically fetches and displays the most relevant or most suitable answer to the question, which in most cases, is found useful by the end user.
Chatbots are AI powered and reduce the load of manual intervention between customers and business customer support teams until the time the customer requests chatting with a real person from the team.
What is an audio-video bot?
Audio-video bot is typically a technology that lets people have a two-way conversation with businesses. It's a conversational AI system using which one can seamlessly communicate with the support personnel using the audio-video format.
Audio-video bot is also known as the live communication platform, one that Degpeg has proudly launched and one that is being successfully used by a number of businesses across the country at the moment.
Chatbot VS audio-video bot. Which one is better?
Chatbot and audio-video bot are both AI generated services and have a few glaring differences that make one better than the other.
Non-scripted conversations:

The global chatbot market is largely based on offering standardized answers to predefined questions that customers are expected to tap and choose. Audio-video bot on the other hand offers a live communication platform wherein the conversation is open and free-flowing.

More personalized:

Chatbots are a non-personal form of communication whereas audio-video bots offer a more personalized approach to problem solving, giving customers a more human-like experience.

More widely used:

Audio-video bots are more widely used across sectors and industries as compared to chatbots.

Linear experience:

Chatbots offer a non-linear experience by smoothly navigating complicated chat flows. Audio-video bots, on the other hand, offer a more linear experience since it is verbal by nature and does not follow a preset pattern of communication.

Swift communication:

Chatbots are a messaging service and hence do not promote swift communication. Audio-video bots offer verbal communication that makes conversations more personal and direct.

Enhanced customer engagement:

Audio-video bots enhance customer engagement as customers and the business support personnel come face to face over this audio-video call to resolve all queries and concerns. This also makes addressing concerns more efficient and instant.
The crux of the matter
While the live communication platform is picking up faster these days, it is critical for businesses to evaluate their requirements and seek for themselves which support service is most well-fitted into their ecosystem.
Here, we've highlighted the basic difference between the chatbot and the audio-video bot and listed above some of the reasons why a live communication (using the audio-video bot) is more beneficial that the conventional chatbot.
However, all businesses need to consider all factors like their industry type, target audience, budget, business needs, complexity of tasks etc before implementing either of these services into their systems.
About Degpeg
Degpeg offers a live communication platform to businesses across India and helps them make their customer support system more meaningful, personal and trustworthy. To know more about chatbot VS audio-video bot, their advantages and disadvantages.
More With US
Know more about Degpeg.
Request a Demo