11 / 09/ 2023
All you need to know about audio-video bot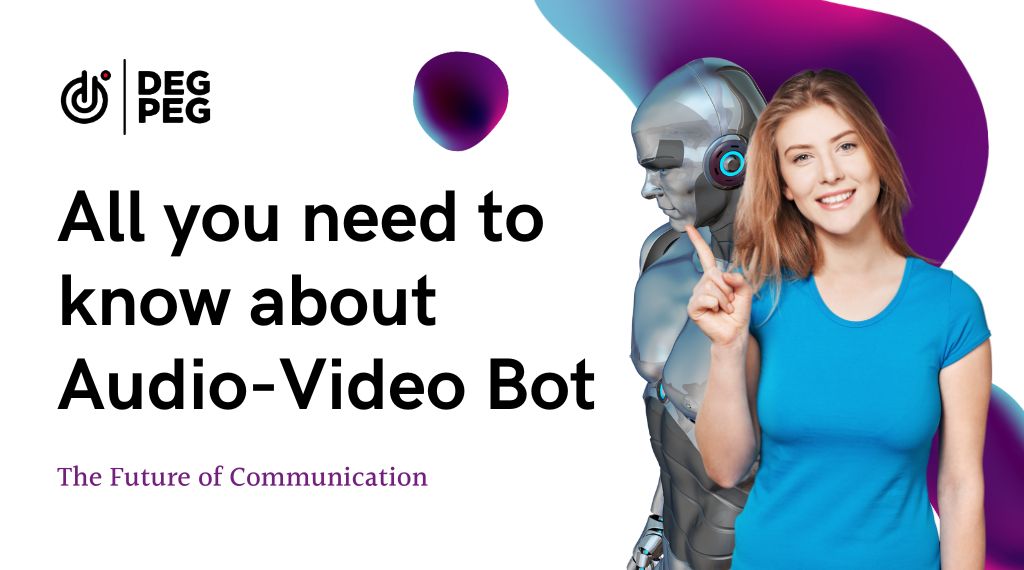 We all know about chatbots or the AI-generated text messaging services used by brands on their websites and mobile apps for easing out the customer support process. What's new and more advanced is the live communication platform a.k.a the audio-video bot that is making the noise in recent times. While brands are gradually making this transition, Degpeg is here with their live communication platform, transforming the way brands communicate with their customers.
What is a live communication platform or audio-video bot?
Unlike chatbots, audio-video bots promote real-time, in-person conversations between brands and their customers. Using live communication, customers can conveniently talk to customer support executives using the audio+video format. This not only makes communication more direct and effective, but also makes problem solving quicker and smoother.
What's more is that using the live communication platform, brands can resolve more queries in a lesser span of time and can also save big on their overall operational costs.
How does the audio-video bot work? What are its most common advantages?
Implementing this live communication platform (software) on your website or mobile app is like a breeze. It doesn't require any high-end system or expertise. Once implemented, a chat window, similar to the chatbot window, will appear on your web page.
When a customer comes to this page, they will get an option to connect to the brand's customer support team via an audio call, or an audio-video call, or via a chat facility. Once connected, customers can talk to support personnel and get their queries and concerns addressed in a snap. Customers can also share their screens and exchange media (photos, videos, documents etc) while on the call for easier and clearer communication.
For brands, this live communication platform not only reduces their operational costs but also lets them attend more calls than the number of chats they could. Additionally, the system also allows instant call routing so that the wait times are next to zero. Calls can also be recorded for training purposes and reports can be downloaded at any time, from anywhere. Multiple people can be added to the call and brands can also track the callers' locations seamlessly
Why now?
Gone are the days when brands relied solely on chatbots to streamline their customer support experience. Live communication is the new-age customer support medium that enhances the way in which customers communicate with brands. With a more empathetic approach, personal touch, and instant resolution of queries, this audio-video bot is not just another AI-based technology.
It is time for brands to transform the way they deal with online customers. It is time for them to redesign the way they communicate with their customers. It is time for them to adopt this new-age audio-video based live communication platform.
Connect with Degpeg:
Request a demo of Degpeg's live communication platform to make your customer support experience more meaningful, trustworthy and efficient.
More With US
Know more about Degpeg.
Request a Demo