28 / 08/ 2023
8 reasons why talking is more convenient than texting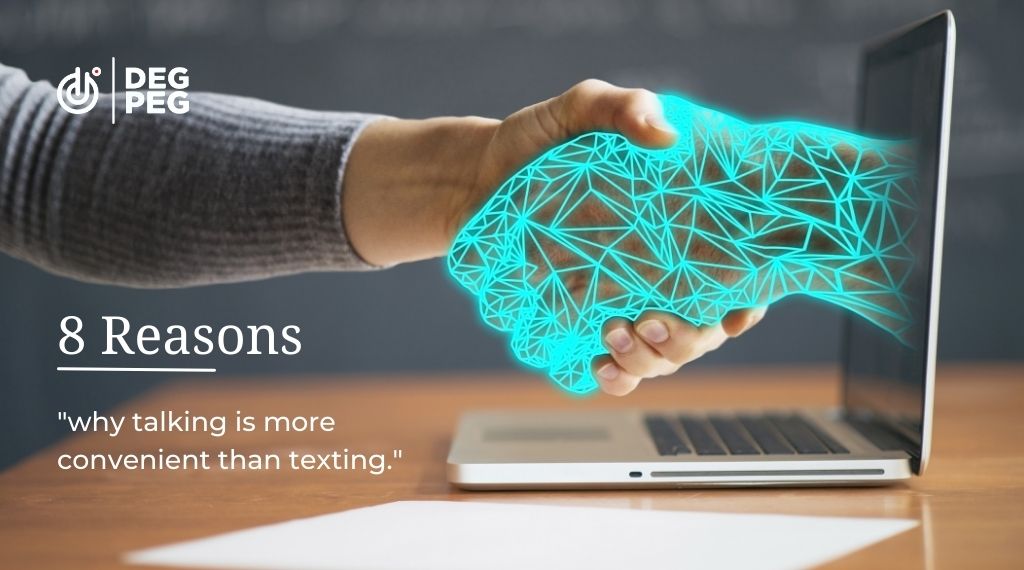 How often has it happened to you that you intend to type a particular thing but it is interpreted in a completely different sense by the opposite person? Isn't this miscommunication often misleading and frustrating? In relationships it often leads to debates and in businesses, it often leads to drop in the number of loyal customers. With everything going digital, most businesses these days prefer to have automated customer support services in order to keep manual intervention as minimal as possible. At Degpeg, we're here to change this thought process.
Degpeg's Audio-Video Bot
With Degpeg's live communication platform, when a customer connects to a company's customer support team, they get to actually talk in-person - with a video facility as well - with the customer support executive as against the traditional chat-only or chatbot assistance that most others follow. Having audio-video communication has advantages more than one can imagine. Below are some of the many reasons why talking is ever more convenient than texting when it comes to business customer support communication.
Top reasons why talking is better than texting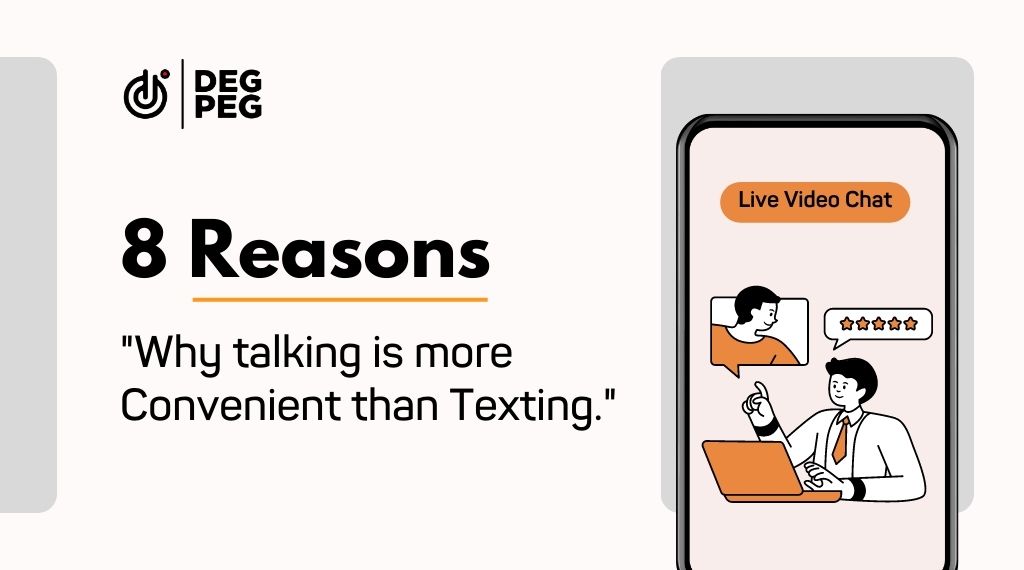 Personal Touch

Talking over an audio-video platform is always a better option as compared to chatting or texting as it offers a personal touch to both parties communicating. As a customer, you can know who you are talking to as you can see the person communicating, and as a business, you get to know the customer better, as opposed to just knowing their demographics.

Clear Communication

Texting often leads to messages being misinterpreted and misunderstood. Talking makes communication clear and direct. One can put forth their thoughts and concerns more clearly while talking as opposed to putting the whole thing over a chat. Communication is many times unclear, especially when both parties are not as well-versed with the vocabulary or language being used.

No Language Barriers

Talking, especially with Degpeg's live communication platform, helps businesses connect with their customers and vice-versa in the language they understand. Customers can select their preferred language and can talk in their regional language with the support executives. This makes them feel more confident, comfortable and heard as opposed to texting in a company's default standard language that they may not be fluent in.

Constructive Feedback

When customers can freely talk and express themselves, they can give more constructive feedback to a business for the products and/or services they offer. In turn, businesses can also take feedback and offer solutions better when talking in-person than over text.

Increased empathy

Texting is often emotionless as it's just an exchange of messages. With verbal communication, one can express more freely and clearly and the recipient too can understand the talk more empathetically, thereby providing more effective solutions for a successful closure of the issue or simply addressing customer queries better.

More Conversions

For businesses, the most important thing is to retain existing customers and increase conversions from both, new and existing customers. When communication is personal and more expressive, it often leads to customer satisfaction and increased business revenue. With Degpeg's audio-video bot, businesses can account for more audio-video calls from customers, provide resolutions quicker and better, and can thus generate more sales and revenue, than they otherwise would, using a chat-only facility.

Real-time Communication

Talking also offers real-time communication between parties. Texting may lead to some amount of delay in delivery and replies, thereby increasing waiting time. When a customer support executive is busy with another chat, customers are expected to wait until they are attended to once the previous chat is closed. This may take up to several minutes, which leads to disappointment. Talking, on the other hand, is instant and there's no wait time needed to exchange communication, once the call is connected.

Read Body Language Better

When you talk to somebody over audio-video, you can see the person's expressions and body language and this enables you to make better judgments of what the person is feeling or going through or what he generally is wanting to express. Reading body language also gives you a hint on how you need to communicate or behave in order to pacify a furious customer or encourage a potential buyer so that there is no gap left in addressing all of their queries.
The above are just a few reasons why businesses these days are shifting customer support from a chatbot to an audio-video bot. For those businesses and individuals who may feel texting gives you the liberty to type messages at your own speed and convenience and may be a better form of expression for those who aren't good with verbal communication, Degpeg's trial offer is here for you!
Request a Demo
live communication platform and experience the magic of communication and conversion for yourself.
Request a Free Demo